Terra Cotta: Area #1 Wetland Pavilion
$250 / capacity 50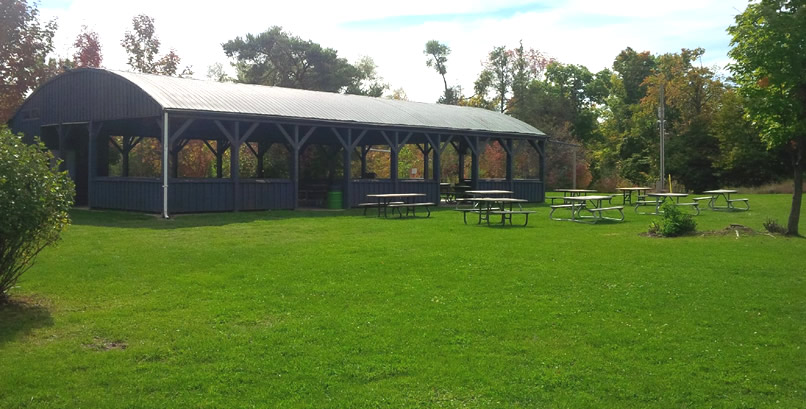 Open grassy area with a 40ft by 65ft open pavilion. Limited shade available, other than the pavilion. Located near Visitors Welcome Centre, washrooms, parking and trails. Tables placed to suit group needs, suitable for up to 150 people seated inside, 200 guests on site. Use of speaker system and charcoal BBQ included, bring your own charcoal or purchase on site (charcoal is available for purchase at the Visitors Welcome Centre). Hydro included (1 outlet). Additional Rentals: $40 for microphone (Additional $400 deposit required) *Please note Terra Cotta has a strict noise bylaw and outside sound devices are not allowed Please call 1.800.367.0890 to reserve a picnic site within one week of event date. Bookings not accepted within 72 hours from event date.
Admission Fees & Cancellation Policy
Please note that general admission into the parks is not included in picnic site rental fees. The following admission fees per person will be charged upon arrival: Adults (15-59) $5.75; Seniors (60+) $4.43; Children (6-14) $2.65; Children under 6 years old with their family are free; valid membership holders are free. Bus admission discounts are available.
A $25 non-refundable reservation fee applies for all cancellations and park closures 24 hours prior to your event date. Groups can move their event to another date, depending on availability.
Please note: a $150 Environmental Deposit will be added to your booking beginning in January 2020. The intent of this deposit is to help keep our Conservation Areas clean by encouraging groups to make sustainable choices during your event and to use the provided garbage and recycling receptacles accordingly during your stay. Eligible deposits will be refunded after the picnic is complete and will show on your banking statement within 5-10 business days. Thank you for your cooperation to help keep our parks beautiful!
In the event of an emergency park closure, refunds will not be available once you have arrived to your event location.
Bookings not accepted within 72 hours from event date.
For reservation information, please call 1-800-367-0890